E-Cigs are more than just a craze—they're a smoking alternative for the future and one many people have already come to swear by. If you're someone who already loves to vape or are thinking about getting into the lifestyle, it pays to shop for reputable products at a shop staffed with knowledgeable enthusiasts if you're in Orlando, Union Park, or Alafaya, FL.
New Galaxy Gifts welcomes new and experienced vapers alike with a massive selection of mods, e-juice, e-cigarettes, accessories and much more, to help you have the best possible vaping experience. Our inventory rivals most shops in Orlando and includes brand-name favorite products.
E-Cigarettes
From starter kits to advanced mods, our staff will be glad to get you set up with the vaping supplies appropriate for your needs. We have experience and familiarity with a extensive range of different e-cigarettes in Orlando—everything from basic disposable and tank kits, to box mods and sub-ohm rigs. Whether you're just trying to replace your per-a-day smoking habit or are interested in chucking clouds with the best of them, we promise you'll leave our store with the right e-cig setup.
E-Juice
Our selection of e-juice in Orlando includes something for absolutely everyone! You'll find classic tobacco and menthol variations on our shelves, as well as all of the fan favorites across many different lines. We've got traditional and nontraditional alike—from flavors like blueberry and apple, to lemon meringue pie and hot cocoa!
Having trouble deciding between all of the great flavors we offer? Ask our staff for a recommendation! We'll be glad to share some of our favorites with you, as well as popular flavors among our customers.
Vaping Accessories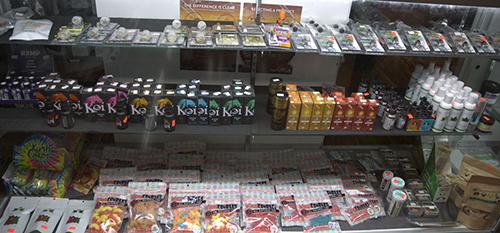 Need a new battery for your e-cigarette? Looking for a drip tip or pack of new tanks? Our shop in Orlando works hard to supply vapers with everything they need to keep the clouds coming. Just tell us what you're looking for and we'll be glad to point you in the right direction.
Stop in today to browse our huge selection of e-cigs and vaping-related products for yourself or contact us today at 407-273-5020 if you're looking for something in particular, be it e-cigarettes, vaporizers, pipes, or other accessories.