At New Galaxy Gifts, we aim to be your all-in-one shop in Orlando, Union Park, or Alafaya, FL. Count on us to carry everything from pipes and rolling papers to incense, scales and just about anything else you need to enjoy your smoking experience to its fullest, whether you're using a pipe, e-cigarette, or vaporizer. We're also home to the largest selection of accessories for smokers and vapers. Stop by today and browse our entire selection of products for yourself!
Products We Sell
Whether you prefer to smoke out of a pipe, roll your own cigarettes or vape, it's important to have the right accessories on-hand. Our shop in Orlando provides customers with the best possible selection of products, to ensure your smoking experience is optimal, each and every time. Come to us for:
Grinders
Rolling papers
Novelty items
Incense
Blunt wraps
Safe cans
Scales
Detox
Silicone accessories
Looking for a particular product or brand? Just ask our friendly, experienced staff and we'll help you find it. We carry most well-known products in-store, but can help you track down anything we might not have.
Brands We Carry
There are so many great brands to consider when it comes to how you're smoking and the products you're using. When you shop with us, not only will you have access to the best of these many brand names, you'll also be able to speak with employees who have experience using them and intimate familiarity with each brand. Some of the many brand names we stock include:
Amg
Atmos
Chameleon
Crush
Darby
Diesel
Dr Green
Dr. Dabber
G Pen
Glass Torches
Grav Labs
Hamm
Hi Si
Hit Man Torches
Hitman
Jerome Baker
Khalil Mamoon
Kind Pens
Koi
Liquid
Magic Flight
Medi-Cali
Newport Butane
Pax
Piranha
Puretane
Salt Glass
Santa Cruz
Sharp Stone
Sheldon Black
Silika
Silver Surfer
Smok
Stok
Suorin Vape
Surin
Sutra
Syn
Torch Tube
Toro
Twisted Labs
Vector Butane
Vector Lighters
Volcano
Zob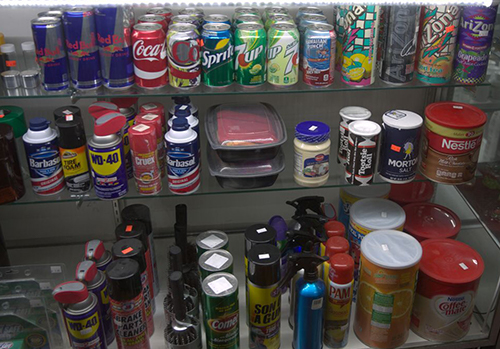 Stock Up With Us!
New Galaxy Gifts is your one-stop-shop for any and all smoking supplies, no matter what your preferred smoking method is or what types of products you prefer. Stop in today and browse our full selection and see for yourself all we have to offer. Or, give us a call at 407-273-5020 to inquire about our inventory.